Too Short
Makes Peace
With The Luniz and KMEL
Earlier this week something special happened here in the Bay...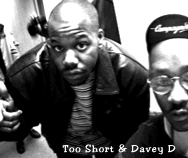 My man Sway of the nationally syndicated Wake Up Show hooked up an important conversation the other day on KMEL Radio. He got Too Short and The Luniz to come together on his morning show and publicly put to rest their simmering feud.
The actual details leading up to the feud are still unclear however, what was known was that Short, The Luniz and their respective camps were for a longtime one big happy family. Short's phenomenol success had essentially paved the way for groups like The Luniz to come out and bask in the spotlight.
For numerous reasons, Short and his former business partner and friend Chris Hicks aka CnH of the Luniz/Dru Down clique had a falling out. Around the same time Short relocated to Atlanta. There was a lot of speculation about Short's departure and when the Luniz took a shot at Short in their song Playa Haters folks wondred what would be the reponse.
The public at large got a chance to see this response when Too Short/Luniz beef played itself out last summer at KMEL's Summer Jam concert. when members of Too Short's posse handed down a vicious beat down to his former business partner and friend Chris Hicks aka CnH of the Luniz/Dru Down's camp...
That particular incident resulted in KMEL's Summer Jam concert being shut down due to the fact that both factions were rolling deep and were threatening to take the altercation onto a whole other level which included possible gun play. Both camps were rolling deep...and for the first time in the history of Bay Area Hip Hop folks saw Oakland basically divide itself.
For fans attending the concert they were deprived of seeing headliner E-40, The Isley Brothers and The Bay Area Rap Allstars which featured about 10 of the Bay Area's biggest rap acts who had all gotten together to do a special presentation... the incident also put the annual Summer Jam concert in jeapordy as the city of Mountainview's Police Department who have juridiction over the Shoreline Amphitheater where KMEL Summer Jam is held wanted to forever curtail the event in their city. Needless to say this put KMEL and Too Short at great odds..
Too Short was blamed as the primary cause of the disruption and KMEL PD Michelle Santosuosso was quoted in papers all over the country saying that a Too Short song would never again play on her airwaves..no matter how high his popularity....KMEL's basic position was that because they had long supported Short and in fact allowed him to headline Summer Jam on a couple of occassions, he of all people should've at all cost avoided a confrontation with the Luniz. To have these two home town crews going at it during a concert that was raising money for peace organizations was a major black mark on the station's reputation.
Too Short responded to the station's accusations with a potent press release of his own that was critical of the station's commitment to hip hop. He claimed that KMEL's street credibility was due to him endorsing the station at a time when hip hop was unheard of on their airwaves. Short also accussed the station of trying to manufacture a beef with him and his labelmate E-40 by suggesting that he deliberately caused his performance to be cancelled. Adding insult to injury Short went on to record a song for his new album which dissed KMEL...Tensions reached an alltime high when Short recently went on KMEL's rival station and continued his attacks...Things for the most part did not look promising..
Sway who himself is an Oakland resident decided to take a proactive role in this situation and stepped to Short by asking him to appear on KMEL with the hopes of resolving all beefs...His feeling was that if Short and The Luniz and Short and KMEL could squash their difference perhaps others would follow their lead and do the same within their own lives.
The result of these efforts were powerful. .This past Wednesday..May 22 1996... Too Short, Yuckmouth of The Luniz, and Chris Hicks came on air and publicly squahed their conflicts...Short explained to listeners that the feud between him and The Luniz had been resolved a longtime ago, however he along with everyone else felt it was important for fans to see the two cliques had come together... The mood was jovial as all sorts of fellow Bay Area rappers and shot callers including The Governor and Bird called in to offer heartfelt congratulations.
All specualtion ended on the show when Short spoke about the real reasons behind him leaving Oakland. He said a lot of it had more to do with him being constantly being hassled by the police, lawsuits and better business opportunities down south as opposed to his disagreements with the Luniz. Yuckmouth of the Luniz spoke on how they were all thinking about doing a record together just put folks at ease....
Chris Hicks elaborated by pointing out that Short, The Luniz, Dru Down and everyone else connected had at one point been one big family and they had apparently allowed some personal problems get out of hand and play itself in the public...

Short concluded that within the Bay Area's Hip Hop community there have never been any destructive rivalries..between groups. If anything it has always been a spirit of co-operation with everyone having a shared interest to make money within hip hop.This camaraderie has resulted in Bay Area artists either putting out compilation albums or guesting on someone else's album..'In '96 It's all about young brothers getting together and making money in a positive way', Short said.
As for the beef between Short and KMEL, that was resolved both on air and behind the scenes.. Short and Michelle S met behind closed doors for about an hour and when they emerged they were all smiles.. Hip Hop had definitely taken a few steps forth the other day.. It was certainly a pleasure to bear witness.
written by Davey D
5/24/96