Too Short
'Gettin' It (Album Number Ten) [Jive]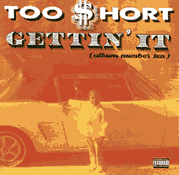 If there's a way to go out as Short as indicated on his final lp 'Getting It'.. this is the way to do it. On his tenth album Short who incidently has released more lps then any other rap artist in history, has gone into retirement a champ and not a chump. His maturity as an artist is clearly reflected in his latest lp as he raps behind some superb instrumenatation provided by the funk band Parliament.
His first single Gettin' It is all that.. and had me eagerly awaiting the album.. One of the lps highlights is Short as a rapper. He's often been criticized as being a non rapper because of his slow delivery and uncomplicated lyrics..But Short has always had something to say. Sometimes it's the degrading pimp/hustler stuff that garnered his huge fan base... and other times it's some socially relevent message that really makes you think.. Songs like Gettin' It and the piano ladden track 'Survivin' The Game are in that vein.
As for the rest of the songs... I persoanlly feel Short came through.. I found myself liking the entire package from start the finish. The music is tight and Short is tight.. He's still funky and he's expanded upon his musical horizons. Standout songs include 'Bad Ways' , ' Baby D' which features this dope ten year old kid. .. 'Buy You Some which features Short, Eric Sermon and MC Breed is tight and ';Never Talk Down' which features Rappin' 4Tay is the bomb.
Overall I have to give this lp my total endorsement.. I can only hope there will be a clean version so I can rock a lot of the cuts...GRADE=B+
Davey D
5/25/96
Counterpoint:
I've been a Too Short fan all my life and I got two words to say about this album .. IT SUCKS. If Short is retiring he really needs to because album number 10 is proof he fell off big time. There maybe some new fans out there that are feeling this album. They may like the beats and the raps..But that's the new Too Short. I was looking for the old Too Short.
On this entire album there were no Oakland style funk songs. Everything sounded like it was from the East Coast or Atlanta where Short lives now. I think he's out of touch with the type of sound that people are feeling these days. Maybe they feel album 10 in Atlanta.but they don't in Oakland. Not only are the beats hella weak..but Short doesn't sound like Short. He sounds like any other rapper out there.
If Short reads this ask him what happened to the songs like Freaky Tales? What happen to all the songs where he yells Bitch..? That's what I was hoping he'd come with. That's what made Short...He must be getting old.. He got off on that new song he did with Passion... and his first single Gettin It was the bomb.. But everything else is weak.
As life long Bay Area native who grew up listening to Too Short.. I can not and will not endorse this album. If you're looking for the old Too Short you find it here.. You better check for his old album like Short Dog Is In The House. If you are from someplace other then the Bay Area this album may be for you..but it ain't the Too Short I grew up listening to. When Short said he was retiring maybe he meant the old Too Short was retiring and this new guy is going to start rapping in his place..GRADE=C-
Li'l James Pelstrong
5/26/96
Share With Us Your Opinions About Too Short's new album