There's some new flava from the Bay Area worth checkin' out...It's from the Knuckle Neck Tribe... which is an all Filipino hip hop group who are best known as KNT.. Once upon a time when hip hop was still relatively young.. [early 80s].. this crew was known for break dancin'.. They felt it was important to keep that facet of hip hop alive while everyone else was bailing ship... They ran into the usual stereotypes of folks thinkin' an all Filipino group couldn't throw down.. but they've since proven everyone wrong... Now as for their new record.. Meditation.. simply put this is hip hop at it's finest.. it's definitely something for the headz..Props to KNT for representin' the diversity that exists within hip hop culture and by showing that our Asian brothers and sisters got some skillz to flex...
Speakin' of which... folks may recall those kids called the Mountain Bothers who really got known for the Sprite commercial they rapped on.. Well, this Philadelphia based Asian hip hop trio is back with a record called 'Paper Chase'.. It's on Ruff House records and I can't front.. It's off the 'hizzie'.. The flipside which is called '5 Elements' is also on point...and comes highly recommended.. These kids represent hip hop to the fullest...

The lp that's poppin' off the most here in the Bay Area is the Southwest Riders lp which was put out by E-40, B-Legit and Tha Click..All sorts of folks are on this hard hittin' lp... rangin' from Celly Cel to Master P to Bones Thugs & Harmony to WC.. The track that folks are checkin' for is 'Pay Styles'... E-40 and company released a clean copy of the lp.. but unfortunately it's not gettin' any love on KMEL Radio... There's some beef between the management and The Click..
During this year's Summer Jam concert which is one of the largest urban showcases in the country.. Forty Water and company showed up unannounced and waded through the lawn/general admission section during the show.. Because the fellas are so popular.. fans started to swarm them.. For most people who were in the reserved seating..it looked like a huge fight was breaking out.. when in reality it was just admiring fans clamoring for autographs... The Click somehow found their way back stage and at that point.. they were accused of bum rushing the back stage area.. It was a big mess and the Concord City police department were called to escort 40 and his followers out the venue...

There's a lotta of unclear drama surroundin' this situation... The first question is.. with Mr E-40 being so popular in the Bay Area..why wasn't he performing at this huge mega concert ? Well, apparently various Bay Area police departments have been 'play hatin' on E-40... It began with the his native Vallejo Poice department who put the word out that E-40 was the epitome of 'gangsta' rap.. They started telling other police departments that E-40 attracts a rough crowd etc.. None of which is true.. However, many of the police departments have final say so as to who gets to perform at large concerts.. In the city of Concord at the Pavillion where KMEL's Summer Jam concert was held this past August.. the city itself owns the venue.. So once the Concord PD brought into the whole E-40 'gangsta rap' theory he along with various other local Bay Area artists weren't able to perform.... That's definitely a messed up scenario.. not being allowed to perform in your home town because of a misperception..
Anyway.. to cut through the chase the end result was because of the back stage incident..E-40's music was pulled from the air waves... So while his Southwest Rider's lp is 'da bomb' it isn't being heard by the masses at this time here in the Bay...

Some other jams people may wanna peep out include the new Gang Starr...track entitled "you Know My Steez' It's been a long time since we've heard from DJ Premier and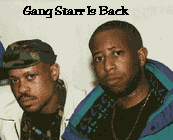 Guru at the same time.. Premier of course has been laying down tracks for everyone from KRS-One to most recently WC of the Westside Connection.... How's thbat for irony ? I wonder if WC is gonna start yelling 'Eastside'... :) Guru himself has been busy doing the Jazzmatazz projects.. He also had some legal problems a few months back.. when he was accused of assaulting a woman with a beer bottle.. after she tried to jam him up for dating white women.. According to reports .. Guru got upset when she asked how a brother who spits afrocentric/ pro black lyrics could hang out with white women..? Guru repsonded by beating her down.. I haven't heard any comments from Guru.. and I really can't believe he went out like that... I'm hoping there's another side to this sordid tale..In any case the new Gang Starr track will definitely getya' head bobbin'...
Another two project worth checkin' out is the Lawhouse Experince Volume 1 and The Ant Bank's 'Big Thangs' compilation lp.. Laylaw who was the production behind Above The Law, Eazy E and numerous other Ruthless artists hits the mark on this one.. He has a couple of stand out tracks with Ice Cube called 'Legal Paper' and another one with WC called 'Givin' Up' which will definitely make any West Coast head feel good.. For those into lyrical finesse.. Laylaw comes correct with the track he hooked up for Ras Kass and Xzibit entitled 'Arch Angels'..
Ant Banks with his project has been strikin' gold... His new track 'Hard Knox' which features J-Dubb who was formerly known as Kool Rock J and WC is one of my favorite grooves.. It has that West Coast Bay Area sound..and lots of bass.. Mr Banks is on point for that one..
Davey D
c 1997
Go Back To October 5 1997 Charts
Go To September '97 New Releases