SEATTLE'S LATEST HIP HOP HAPPENINGS!!!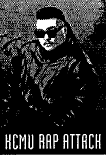 Castle Rock nightclub located at 1600 S. Eagle Dr. in Renton is still drawing the crowds! Peepout every Friday night, it's Heiny Heiny night featuring cash prizes for the Heiny on the dance floor. DJ's Mark Martin, Jimmy Jam & Greg G's in the mix both nights.
Hip Hop night will be returning to the Off Ramp this May with Robert Brewer & DJ's Mr. Supreme & King Otto! Stay tuned. Artbar is the place to be every Sunday nights between 10PM-2AM. Hear the best in Jazz, Breakbeats, Funk, Soul, Disco & Rare Grooves with DJ's Jake One, Strathe, Mr. Supre, and Sure Shot!
The Folklife Festival coming to the Mercer Arena May 26! Ther'll be four hours of Hip Hop representin' talent from the North West. Some of the groups already confirmed are the Rascalz, Tribal Productions and Jasiri Productions.
Seattle's own Central Dynasty new LP is done and coming soon called Everybody Wants To Be A Killa on Dynasty Records. Featured on this must peep out LP are Funkdaddy, Kevin Gardner, Sikll, Mike Wingo, E-Dawg, and off AWOL Records Mississippi!
Cypress Hill turned things out at the Moore recently with Seattle's own THC featuring Lyrical Influence opening up! De La Soul was also in town recently at the China Club & debuted three new cuts off their new LP Stakes Is High coming out June 18!
One of the cuts off Sir Mix-A-Lot's LP coming out in April you gotta peep out is, Mobbstyle featuring E-Dawg, A.R.T., & Jackers (formerly DRS).
Paul Brooks owner of of Gypsy Twist Records is planning to release The Elite G's new LP Planet F coming in May.
KCMU Rap Attack's own DJ DV-1 has got a new mix tape out called Monkey Hear, Monkey Do featuring the best in East & West Coast Hip Hop. Pick it up at a record store near you!
DJ Kun Liv's live in the mix at Victor's nightclub every Friday night spinning Hip Hop & R&B! Victor's is located at 75 Marion here in Seattle! Peep out Kun Luv's new mixtape Big Fella Blends Part 5!
Prop$ to Dominic Galindo, Presisdent of Madsills Records who informs us that his group, Popular Demand's latest EP debuted on the Northwest Dance Music Record Pools' Top 100 chart! Lookout for his new group THC featuring Lyrical Influence to come out this May!
KCMU Rap Attack's DJ Vanzai has got his new mix tape on sale called Hip Hop Vol. 3 available at Music Menu and at Plattinums! Vanzai's live in the mix every Saturday night at Metropolis nightclub and if Breakin is your thing, peepout Vanzai at the Ranier Beach Community Center every Friday between 9pm-12am. All B-Boys invited! Also congratualations to KAOS from Kent, WA who took 1st place at the latest Breakwars held at Southshore on March 15!
Also, peep out the Bellevue Crossroads Community Center every Friday nights between 6pm-8pm. Your chance to watch and/or participate with some of Washington's best breakdancers.
Funk Daddy's Take The N Out Of The Funk video's comin' out soon featuring cameos from yours truly, Sir Mix-A-Lot and Magic Mike!
Music Inner City hosted by Gordon Curvey moves to Saturday late night 12:30 pm to 1:30 am on Channel 29, starting April 6th! Gordon's got another video special happening on Sunday May 26 at 1:30 pm on Channel 22, KTZZ a show for the youth!
Micheal Dean's Eye On Seattle another phat TV show featuring up and coming stars from the NW moves to Friday nlights at 11pm on Channel 29 starting April 5! Peepout yours truly, Baby - C, & Robert Brewer as guests on their new time slot!
KCMU Rap Attack's own DJ Top Spin's live in the mix every Thursday night between 8pm - 12am at The Mecca! His new mix tape KTOP Broadcast No. 4 is available now. Independent Lable's Tribal Complilations new compilation is coming out in mid April featuring Ghetto Child, Sensemilla, Phat Mob, Union Of Opposites Narkotic, Infinite and Sha.
Source Magazine's Source Van and soon to be announced artists will be coming to Seattle this June! Stay tuned for more details.
Happy Birthday (15 D'day) to KUBE 93 and Prop$ goes out to Cypress Hill, De La Soul, Fugees and The Goodie Mob for stoppin' by Seattle! If you're out in Tacoma, check out Joe Joe's a brand new retail outlet that has vinyl, tapes, CD's, pagers, cellulars, Hip Hop gear and more.
Don't forget to tune into KCMU Rap Attack every Sunday Nights from 6pm- 8pm on 909.3 FM! Till next issue, Peace Love and Hip Hop, Stop The Gang Bangin' and Stop the Violence.
Nasty Nes 4/1/96

REPRINTED WITH THE PERMISSION OF PROPS MAGAZINE.....IN VANCOUVER, CANADA
---

---
Back To Hip Hop News Directory
Back to Davey D's Main Home Page