Two weeks ago, the Bay Area was greeted with a bit of sad news as one of its most talented hip hop soldiers lost his life. Oakland rapper Seagram Miller was shot to death in a hail of bullets in the early hours of the morning. Seagram was best known in these parts for his classic song The Ville which gave spoke about his notorious neighborhood East Oakland's 69 Ville housing projects.. Seagram went on to make some noise on a national level when signed to Rap A Lot records and he dropped what is considered a classic Bay Area lp entitled Reality Check.
Seagram had firmly established himself as an OG not just within the Bay Area hip hop scene but also on Oakland's vicious East Side streets. He broke the stereotypes on both levels. As a street OG, Seagram was well liked and well respected. He also made no bones about his willingness to step up and be responsible father. He is known as one who took care of family despite having several off spring from different women. So strong was that commitment that on the Reality Check lp he flipped the script and did a heartfelt song called Birth.
Seagram was one of those guys who on the surface seemed to be a well spoken and nice guy who remembered your name and would exchange pleasantries with you.. If there was an evil flipside to him.. I never saw it in my personal encounters.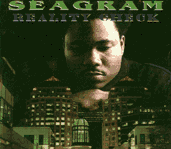 As an artist Seagram broke the mold attached to 'gangsta/ street rappers'. Seagram definitely had material that chronicled his life on the streets..but at the same time he was considered one of the best free stylers around.. There had been more then a few shows and more then a few radio interviews where Seagram had come and firmly wrecked shop. The one incident that stood out most for many involved within the Bay Area hip hop scene occurred when him and Houston rapper Mike G bum rushed a show at SF's DNA Lounge. They weren't scheduled to appear, but Seagram showed up with a dat in hand and made it clear that he wanted to do a five minute set. His request was granted as he and Mike hit the stage to do what wound up being the best performance of the night.
The circumstances surrounding Seagram's death aren't too clear. Apparently Seagram was in an area known as the Twamps. [FYI..There is currently a movie being made about the Twamps]. There were rumors circulating that there were some folks who have long wanted to see him wasted. That wish unfortunately came true.. when an unknown gunman emerged from the darkness and shot at Seagram's partner Gangsta P... Seagram tried to shield P and wound up taken the bullets that mortally wounded him. Gangsta P was taken to the hospital in serious condition.
The funeral for Seagram was held last late week and literally hundreds showed up to pay their respects. Seagram's death became yet another chapter in what is becoming an unfortunate Bay Area legacy.. There have been one too many rappers who have been jailed, shot or killed over the past few years... Some of the few tragedies befelling Bay Area artists this year include... Mac Mall's dj ...DJ Cee of Vallejo was shot to death, Mr. Cee of SF's RBL Posse was shot and killed New Year's eve, Vallejo's Young Lay had his baby kidnapped and his girlfriend burnt to death..[the bay is still missing], Rappin' 4Tay was jailed earlier this year for parole violations, Pooh-Man was sentenced to serve 36 months at San Quentin late last year. It's been hard for many of the Bay Area's artists to escape their past lives out on the streets... Hopefully things will substantially improve.