Hip Hop Reviews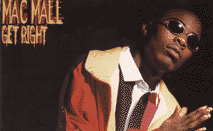 Mac Mall
'Get Right'..[Relativity]
If ya like Bay Area hip hop with it's slow rollin' funk.. bass ladden ..mob style beats, you'll love the new Mac Mall single 'Get Right'. It's the bomb..baby the absolute bomb...
Mall has been following the Bay Area style in terms of putting forth some insightful lyrics that spit the game of the streets.. The mob style..V-Town [Vallejo] sound he flows over comes courtesey of one of the Bay's hottest producers..Mike Mosley. Next time I see him, I wanna ask if he sampled the bass line from the SOS Band.. It's just a snippet..but the way its been freaked out..I can imagine the SOS Band using such a beat...I may be wrong, but it sure reminds me of them.
The chorus which puts the song over the top is belted out by another hot Bay Area commodity...Lavitty. A lot of folks don't know but this kid can sing... He made all the difference in the new Spice 1 single.. Oh yeah.. I should let you know that Mac Mall is cousin to E-40 who resides across town. hence the hook up with Lavitti... who rolls with the Sick Wid 'It/ Click camp.
And how does Mall do on this track? He flows tight as hell... with lots of flava.. He'll be getting paid in '96.
Davey D..3/24/96
Go Back To Review Directory
---
Whitey Don w/KRS-One
'Lyrical Shot'-83 bpm [Jive]

This song is the the absolute bomb.. The beat is simple...a drum beat and a bouncin' bass to get your head bobbin'. The real treat here are the lyricists. KRS-One sets it off raggamuffin style. Mad Lion lets you know he can represent on the mic. Reggae goddess, Shelly Thunder wrecks shop in a major way and Whitey Don who's record this is, lets you know why he can hang in the company of such dope people. This is a must have for any hip hop fan who likes a bit of reggae flava.


Davey D..3/24/96

Go Back To Review Directory
---
Suga T
'If I Took Your Boyfriend' [Jive/Sic Wid It]
A lot of hip hoppers have been diggin' in the crates and remaking classic songs. The Fugeess with Roberta Flack's 'Killing Me Softly' have taken that to a whole 'nother level. The First Lady of The Bay Area's The Click Posse, Suga T follows suit as she superbly reworks the Prince classic 'If I Was Your Girlfriend'.. This song of course is entitled..'If I Took Your Boyfriend' and features Suga telling you how sexy she is.. The song comes across nicely and offers the listener a nice change of pace..

For those who are looking for something a little bit more rugged, be sure to check for the b side track which is called 'Hustlas & Tendas. Here it features family members, B-Legit, Mac Shawn and G-Note. The song has more of that V-Town Mob feel then the boyfriend song..and should make a few folks stir at you if you have it bumpin' in your car.


Davey D..3/24/96

Go Back To Review Directory
---
Positive K
'Mr Jiggliano'-84 bpm [Creative Music]
I remember a few years back when Positive K was heard all over because of his pop hit, 'I Got A Man'. It featured him rapping to a female as to why she should get with him and leave her boyfriend. Everyone knows the comical refrain..'I Got A Man'... What I personally found comical was the fact that it was Positive K using a high pitched voice to rap like the female...but ssssh, you didn't hear that from me...:) The point I'm making is after that song and his follow up 'Car Hoppers', one didn't really hear from Positive for a long long time.. He seemingly dropped out of sight..admist all sorts of rumours.

One tale had him going to jail for assault because he beat up a sound man..Not true..another one said he had AIDS..not true The other had him having label problems..That might be true.. Whatever the case..Pos.. is back with some new and improved stuff for ya. He's maintained his independent Creative Control record label..and he's retained his skillz and all of his flava.. In fact I think he added a bit more flava..His new track Mr Jiggliano, may not be heard on radio stations all over the country like his I Got A Man hit, but it will have headz from all over the world snapping their fingers, bobbin' their heads and saying 'Ah yeah this is the Sh%t'..
The beat is a slow, laidback groove that has a western/saloon type sound to it...His flow is cool and just to put it simply, I'm glad to see Positive K back...


Davey D 3/24/96

Go Back To Review Directory
---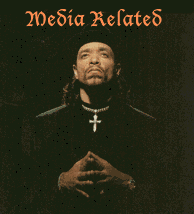 Ice T
'Pimp Anthem' [Priority]
The true playa Ice T is back with some pimp music that'll have even the pope nodding his head. The song 'Pimp Anthem' is actually a b-side cut to the song 'Where It Goes Down'. That song's ok... It won't be missed.. But The Pimp Anthem..it's must have commodity.
The song is reworking of the Junior Mafia smash 'Player's Anthem'. It's a cross between that and Colors from a few years back.. A driving baseline, menacing lyrics..and a bit of flava..opens the door for Ice T's return to the hip hop arena. Last time I spoke with him, he told me that he's tired of being a spokesperson for everything. He wants to just get in the studio and be a dope artist... If Pimp Anthem is any indication of the music to come..Ice T may be doing just that...


Davey D..3/25/96

Go Back To Review Directory
---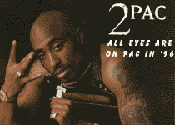 2Pac
'All Eyez On Me' [Death Row]
2Pac probably made one of the best career moves of his life by hooking up with the Death Row Family..And his newly released LP will back that up. This man has blown up on every major scene of the rap universe. You canıt go anywhere without hearing someone playing something off of the new Pac tape.
'All Eyez On Me' definitely put all the different eyes of raps many heads on him. Recently, I was having a conversation with the Dark Sun Riders when we got on the topic of Death Row. They said that New Yorkers donıt really have a feel for Tha Dogg Pound, but they said that they love them some 2Pac. Fools from the many turfs (narcotic spots) of East Oakland play the double album out. I donıt care what kind of rap youıre into I think that you need to check it out if you havenıt already.

My favorite songs on the tape are 'I Ain't Mad at Ya' , a song that features the Death Row crooner Danny boy, 'How Do You Want It' , which features Jodeci singing the chorus, 'All Eyez on Me', a song that definitely has West Coast turf music appeal, 'I Got My Mind Made Up', features Redman, Method Man, and Tha Dogg Pound, and for the East Coast lovers this for surely was influenced by the East but it also has a tinge of turf music flavor. Keep your eyez open cauz this will definitely be a classic.


Peace!..JR 'Knight Writer' Valrey

Go Back To Review Directory
---
J Dubb
'Game Related' lp

With this album J Dubb definetly defined himself as a factor in the rap scene in the Bay. Paper Chase had to be one of the phattest songs of the summer. With the vamping of Too Short to Atlanta, J Dubb may possibly have a chance at taking over the throne that Short left behind. The EP was unthinkably on another level. On one track JDubb featured Short and Spice 1. Short rhymed about the Luniz dissing him. He had a lot to say about other Oakland hip hop figures Ted Bohanon, Dru Down and C&H (Chris Hicks) also.

In my opinion 'Paperchase'was the tightest cut on the album. The chorus would have any true rap listener bobbing their head singing along. It goes 'Life ainıt never been a luxury/You got to get your money on everyday of the week/You got to get that paper.' I think the town loved it because the chorus hit home to a lot of folks out there trying to make their ends.
Gangsta P also added some flavor to the song by letting fools know this is something that he also lives by. Look out for this EP cauz it is definetly Game Related


written by JR 'Knight Writer' Valrey.

Go Back To Review Directory
---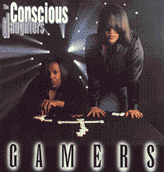 Conscious Daughters...
'Gamers' lp... [Priority]
The Conscious Daughters' transition from the defunct Scarface Records to Priority definetly landed smoothly cause their last album was cool but this album is fat like whale. The beats and music had my buddies saying 'damn who is this?'. For the folks that like 'turf music' (Delinquents, Seagram, 415) this is something that you should consider looking out for.

The first song 'Strikin' had me hooked. For me it was one of those songs that you keep rewinding until you can simultaneously rap every verse with the artist. Other tracks to listen for are 'Gamers', 'Who Got Da Mic', and 'Widow'.
'Widow' is tight because, for one of the first times, the listener heard a womanıs point of view dealing with the pain of losing her man that was in the game. 'Gamers' is a song about coming up and getting men before they get got. The producers of this album get major props cause the beats were phat. This album is way better than a lot of people would expect. This may very well be the album that puts Special One and CMG on the thrones as the queens of Oakland 'turf music'

. Another thing that was above average about this album was the fact that they just didnıt stick to the message of getting theirs. They also had a song that educated fools on the subject of AIDS. Last but not least check out 'All star Freestyle'. This song manifests the diversity of freestyling styles that the Bay contains. Locals like C-Funk, Money-B, Father Dom, and Saafir throw down on this cut. If this was that infamous New York magazine this sophomore album would get 10 Mics.


Peace..JR 'Knight Writer' Valrey

Go Back To Review Directory
---
3X Krazy w/ Suga T
"Flowamatic 9" [Noo Trybe]
These are some kids who live right here in the Bay.. Oakland to be exact and for a whole lot of folks in these here parts...3 X Crazy is hittin'. There new joint, Flowamatic will not disappoint their huge fan base who've come to know and love them for this rough and rugged material which was being sold on street corners and in local mom and pop record stores. This track has that trademark Oakland style funk beat with The Click's Suga T singing the hook.. Her vocals aren't all that..but for this song it works perfectly.. The instrumental has an underground g-funk feel to it... I'm not quite sure who did it considering that g-funk is not really big out here..but it works...


Davey D 3/1/96

Go Back To Review Directory
---
Askari X
"Oakland Streets" [Slow Motion]
This man made major noise about 4 years ago when he dropped a song called Ward Of The State... The song was incredible..but what it more potent was the fact that Asakari was locked up at the time. He was probably one of the first political rappers from the Bay to have legitimacy amongst those who dwelled in the hood. Askari has always been down... His new release is just as potent...On his six song ep entitled Message To A Black Man, this is perhaps my favorite... I believe it has him not only dropping a bomb ass rap, but also has him singing vocals.. The song is dope..simply dope...and even if you didn't like his other cuts, just hearing this would be well worth your loot.

Davey D 3/1/96

Go Back To Review Directory
---
Menace Clan
&quotWhat You Say&quot-83 bpm [Rap A Lot]

This is a nice funk oriented..west coast type of groove that employs an interesting concept lyrically. Here one of the rappers takes on the role of the OG while the other plays the new kid on the come up. The OG tries to tell the young buck not to get involved in the game... The young kid points out all the contradictions in the OG telling him to chill. He tells the OG very passionately that he has a lot of nerve telling him what to do while his own life was a shambles.. Great song..especially if you like that west coast vibe..


Davey D..2/8/96

Go Back To Review Directory
---
DOMINICA
&quotLittle Willie&quot-100 [Anansi]
For those who like the Afro Cuban beat often heard in places like Spanish Harlem... Then Little Willie is your song..At the same time the song manages to keep a very appealing hip hop edge that let the most hardcore of b-boys know that Dominica ain&quott frontin&quot.. Nice track..


Davey D.. 2/8/96

Go Back To Review Directory
---
MIC GERONIMO
&quotLife Check&quot-94 [Blunt]
I don&quott care what anyone says with a driving bassline a searing lyrics...This new joint from Mic Geronimo is his best yet.. It&quots one of those songs that as a dj.. you program your whole set around it..just so you can bring it in.The beat is especially dope....It&quots one of my favorite cuts at this time..


Davey D..2/8/96

Go Back To Review Directory
---
KOOL KEITH
&quotSlide We Fly&quot-86 [Funky Ass Records
Props to my boy Kutmasta Kurt formerly of Standford&quots KZSU Radio..for hooking up Keith with this track.. Props to my man Motion Man cause he had a hand in this project as well. I don&quott know why he wasn&quott openly credited on the song...But anyway.. If you were a fan of Ultramagnetic and you liked Kool Keith on past tracks.. you&quotll like him now. An infectious beat and a lyrical style that only Kool Keith can spit..puts this jam..as one of my hot picks..


Davey D.. 2/9/96

Go Back To Review Directory
---
SPICE 1w/ Levitti
&quotAin&quott No Love&quot-87 [Jive]

If you&quotre not familiar with Levitti...think E-40. This is the brother who does most of the singing on their tracks.. We&quotll Levitti takes Spice 1 to the next level as he belts out a very emphatic chorus... Spice 1 comes with it as he spits some insightful versus about Street Life... To me this is part 2 of Spice 1&quots classic &quotWelcome To The Ghetto&quot. It&quots actually better if you ask me... It&quots pure dopeness


Davey D..
2/9/96

Go Back To Review Directory
---