MC Ren Back!!
March 25 1996...Oakland..former NWA member MC Ren aka as the Villan rolled through the Bay Area this weekend to promote his new single 'Mad Scientist'. For Ren this is a triumph return from the depths of hip hop obscurity.
Ren's first stop was at KMEL Radio where he and fellow NWA member DJ Yella hosted West Side Radio , a program that airs every Friday Night and spotlights West Coast music.It took the guys a little while to talk but once they did it was good.
Later that weekend, Ren came back to KMEL to participate on the Sunday morning community action show Street Knowledge which is hosted by yours truly. The topic that morning was Youth Issues and Street Knowledge was hosting an in studio Youth Townhall. With a good 30 people sitting back Ren kicked some deep knowledge as he explained his growth over the past few years since the NWA days.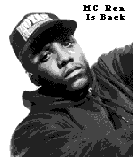 He explained that he felt he has no choice but step to the plate and be a role model for young people. This is quite a change from his original position during the NWA hey days where he felt that he didn't want that sort of responsibility. Ren explained that after going through serious disputes with Eazy E and later Ruthless records that he had a lot of maturing to do. He eventually got married and hooked up with the Nation Of Islam where he is now a lieutenant. He explained that started reading a lot of books and increased his knowledge of self. Nowadays Ren firmly believes that he to be a positive prescence in the lives of young people.
Ren also credits his involvement with the NOI as the reason he and Ice Cube were able to patch up their differences. As Ren put it the fact that they are both Muslims allowed him to look above and beyond the conflicts they had while members of NWA.
Ren has just released a tight 11 song album entitled The Villain Is Black. It is by far his best to date as producers Big Jess and Cold 187 of Above The Law laid down some dope tracks. Ren who nowadays has peace of mind superbly flexes his lyrical skills. He explained that him , Cube, Dre and Yella are scheduled to do an NWA Reunion album which will drop sometime next year.
written by Davey D
3/25/96
Back To Hip Hop News Directory
Back to Davey D's Main Home Page