pg 11
Before the first rap records were put out (Fat Back Band's King Tem III' and Sugar Hill Gang's 'Rapper Delight'), hip hop culture had gone through several stages. By the late 70's it seemed like many facets of hip hop would play itself out. Rap for so many people had lost its novelty. For those who were considered the best of the bunch; Afrika Bambaataa, Chief Rocker Busy Bee, Grandmaster Flash and the Furious Four (yes initially there were only 4), Grand Wizard Theodore ad the Fantastic Romantic Five, Funky Four Plus One More, Crash Crew, Master Don Committee to name a few had reached a pinnacle and were looking for the next plateau.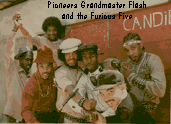 Many of these groups had moved from the 'two turntables and a microphone stage' of their career to what many would today consider hype routines. For example all the aforementioned groups had routines where they harmonized. At first folks would do rhymes to the tune of some popular song. The tune to 'Gilligan's Island' was often used. Or as was the case with he Cold Crush Brothers, the 'Cats In the Cradle' was used in one of their more popular routines. As this 'flavor of the month' caught hold, the groups began to develop more elaborate routines. Most notable was GM Flash's' Flash Is to The Beat Box'. All this proceeded 'harmonizing/hip hop acts like Bel Biv DeVoe by at least 10 years.
The introduction of rap records in the early 80s put a new meaning on hip hop. It also provided participants a new incentive for folks to get busy. Rap records inspired hip hoppers to take it to another level because they now had the opportunity to let the whole world hear their tales. It also offered a possible escape from the ghetto.... But that's another story..we'll tell it next time.
written by Dave'Davey D'Cook
c 1985