2PAC SPEAKS HIS MIND ON WESTSIDE RADIO
Not since the infamous battle between Casual and Saafir has the entire Bay Area been so intensly locked onto the Bay Area's number one radio station-KMEL. Last night [Friday April 19th 1996] was an exceptional night as the Bay got treated to an interview of a lifetime. KMEL's Westside Radio program played host to 2Pac Shakur in what may be best described as a home coming interview.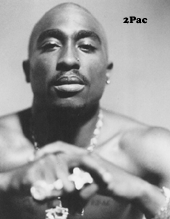 Over the past few years with Pac's numerous yet legendary controversies ranging from him being incarcerated on sexual assaul charges to him being shot five times in an attempted robbery, this outspoken native son of the Bay Area was not without a loss for words as he broke things down to their very last compound.
During his interview with Sway of the Wake Up Show 2Pac broke it down about all the controversy surrounding the East/West coast rivalry. 2Pac went on record to say that he has lots of love for folks in the East.. He said that Death Row also has love for folks in the east coast..He explained that Death Row is getting ready to set up Death Row East and they have been courting some of New York's 'OG' artist like Big Daddy Kane, Eric B and the Wu-Tang Clan.
With respect to the whole Bad Boy/ Death Row conflict, 2Pac noted that Death Row does not view Notorious BIG, Puffy Combs and Bad Boy Records in a favorable light. In fact he is about to drop a video for the song 'How do you want it?' which will have a character called 'Piggy' and another character called 'Buffy'. He added that sitting down an accepting an apology would be like Tony Montanya from the movie Scarface sitting down and talking with the guy he had just overthrown. In short don't hold your breath.
Pac continued on this vein by expressing his extreme disapproval of Mobb Deep and their record ''LA LA' which was a response to the Dogg Pound's 'New York New York'. He called them 'buster ass babies' who were no where near his level. He noted that if the public doesn't see him running upon Mobb Deep and other artists like Chino XL who have taken pot shots at him, its only because they have bowed down to him. Ya gotta hand it to Pac to always speak his mind.
When questioned about his thoughts on former Death Row partner Dr Dre, 2Pac explained that he no longer wanted to be around Dre. He felt that Dre had betrayed his friendship with Snoop Dogg by not appearing as a crucial witness during his trial. Pac acknowledge that while Dre's production skills are tight, they would in no way effect the future plans of Death Row.
2Pac also spoke passionatly about the love he has for his fans. He thanked everyone who had stuck with him throughout his numerous ordeals. He said he has love for all his fans and plans to show it by releasing a special ep which will contain songs that have similar themes andd vibes to his last lp, 'Me Against The World'.. Will the controversy surounding 2Pac ever end? He doesn't think so... and from the looks of it neither do I.
Davey D
4/20/96

Back To Hip Hop News Directory

Back to Davey D's Main Home Page