DJ SWAMP WINS DMC..3/4/96
---
PIRATE RADIO BENEFIT CONCERT A SUCCESS!!

Well let's see where shall we start? There has been so much hip hop activity in the Bay over the past couple of weeks, its been hard to keep up. Well lets start with The March 13 1996 benefit concert at SF's DNA Lounge. For those who don't know, my boy Billy Jam of Hip Hop Slam, put on a benefit concert that was designed to bring about awareness with censorship and to support the pending FCC court case against Free Radio Berkeley.
Free Radio Berkeley is one of the increasing number of unlicensed micro powered aka Pirate Radio Stations that have been popping up all over the country. Here in the Bay Area there are at least 6, with another one soon to set up shop somewhere in East Oakland.

Stephan Dunnifer who founded Free Radio Berkeley 104.1 FM about two years ago was fined 20 thousand dollars by the FCC. He appealed it and made history when a judge kept him from getting fined and allowed him to continue operating the station. The case has moved to the next level where Dunnifer will again deal with the matter. The benefit concert put on by Billy Jam who does his weekly hip hop shows on Pirate Radios around the country, was designed to raise money to help off set some of Free Radio Berkeley's legal costs. FYI the benefit concert was broadcast live on a pirate radio frequency 87.9 FM in San Francisco it was also carried over the internet via Hot Wired Magazine

. [For more info on this case, please refer to the Bay Guardian search engines] Well anyway, tonight's concert brought together many of the Bay Area's burgeoning rap stars. Yours truly along with the West Coast Rock Steady DJs spun the tunes while acts like Big Herm, B.L.A.C.K.,Askari X, Cougnut, The Coup and The Conscious Daughters came through and ripped some nice sets. B.L.A.C.K. aka Beats Lyrics And Conscious Knowledge came through and ripped some nice jazz flavored hip hop with hard hitting, socially conscious lyrics intertwined with some spoken word. They added a new member who calls himself St Croix who kicked the raggamuffin flavor. BLACK is scheduled to release some new material real soon. Oakland's Asakri X was a nice treat. He made a whole lotta noise a few years back when he released a track called Ward Of The State. Due to the fact that he was on lock down in one of Cali's finer youth detention facilities, he has just now come back to the scene, with his new ep called Message To The Black Man. Asakri who has since adapted Nation Of Islam teachings came through and basically tore the house down. His new song Oakland Streets has Asakri both rapping and singing... His street appeal and afrocentric lyrics left folks sprung off of seeing one of his first live performances.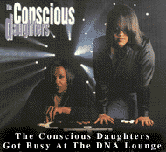 The other big highlight came in the form of the Conscious Daughters. Their new album 'Gamers' is all dat and can be heard bumping from more then a few automobiles as you cruise the Bay Area streets. Their on stage performance was energetic and hyped as they definitely wrecked shop and let fools know why they earned their queenship within hip hop. The crowd who were already into them, lost it when special guest Suga T from The Click and new comer Mystic came on stage to freestyle.
Overall the Free Radio Berkeley Benefit concert was a success, as it not only raised money, but also brought about an increased awareness and the viability of pirate radio. As large corporations began to make moves gobbling up everything on the commercial bands, more and more people are starting to find the value in home made media. Pirate radio stations have always been a viable source for information and grassroots based music. It has over the years been a tool utilized by those on the rock side of town, but now, at least here in the Bay Area more and more hip hoppers are getting into it. I predict in the next couple of years pirate radio will be to West Coast hip hoppers what mix tapes are to East Coast hip hoppers.

written by Davey D 3/14/96
GO BACK TO HEADLINE NEWS DIRECTORY
---
KPFA's FRIDAY NIGHT VIBE CELEBRATES INT'L WOMAN'S DAY!
Last week [March 8 1996]KPFA's Friday Night Vibe celebrated International Women's Day as they dedicated the whole show to women artists. Pam The Funktress, who djs for The Coup came through and worked the one and twos. Throughout the night nothing but female artists were highlighted on the turntables. The range went from old school Salt-N-Pepa to old school tapes of hip hop pioneer Lisa Lee up to current hip hop queens like Bahamadia and Lauryn from The Fugees.
The FNV kicked things off with an interview from first lady Hillary Clinton... That's right I interviewed the first lady earlier that day..and we played back her back over some funky ass beats.. If you don't believe..ya better ask somebody.
The show went over the top as a whole bunch of local female emcees rolled through to rip some freestyles. Among them were Oakland's own Kofy Brown who's current lp Live and Delicious is more along the jazzy tip. In addition to dropping some nice lyrics, she also premiered a new song which is soon to be released... entitled 'Let It Flow'. Also on board was a new artist named DREAM... She is currently being produced by Ed OG And The Bulldogs. Her flow was definitely on point.. and had fools fiending from more.
The group that stole the show was this all female crew called the Syndrome. They likened themselves to a female Wu-Tang Clan in the sense that they roll deep and will one soon record together, yet everyone has there own individual styles and intends on doing their own solo project. These women let it be known y'all better 'protect your necks' cause the Syndrome Crew is not to be 'f*&ked with.'
Reign one of the lead rappers for the group set things off with a vicious off the dome freestyle...in which she berated Pam for not changing the beat. It was all good... cause Reign was in a zone just wrecking shop as she flipped back and forth between raggamuffin style and a jazz flavored flow. Next came Trez, another dope female whose rhyme style could be likened to Saafir...kinda off beat but peppered with metaphors for days.
Nefarious bugged everyone out as she's an Asian female who begin flippin verses like I HOP chefs flipping pancakes... That girl has got mad skillz and the fact that you don't see a whole lot of Asian emcees much less female Asian emcees and then one who flip rhymes like Nefarious.. She is gonna be a definite attention grabber for the Syndrome.
Luck Charm finished off the set with a nice solid 4 count story rhyme about brother trying to play the role of the mack daddy. During the interview Reign explained the syndrome had 4 other members but they all couldn't make it that night.. But trust me, what I heard and saw was enough to get me sprung. Beware of the Syndrome 'cause they're about to come to your town and send wack emcees to the morgue.
The other interesting aspect about the show was all these other female emcees were calling up the station wanting to rap over the phone... In short the all female show was off the hook.

written by Davey D 3/9/96
---
DJ SWAMP WINS DMC BATTLE
The US DMC [Disco Mix Club] Championship was held here in San Francisco a couple of weeks ago. The winner was this long haired heavy metal type from Cleveland named DJ Swamp. He came through and manipulated the turntables like I haven't seen since the hey deys of DJ Q-Bert and his West Coast Rock Steady DJs... He suceeded by making the turn tables sing...
He was juggled beats and created intricate drum patterns with the records he spun.... He even came out and made a heavy metal song by manipulating the horns for NWA's '
Dope Man'. His grand finale had Swamp picking up his records and smashing them just like a heavy metal musician would a guitar. The crowd went nuts.
As to how the other djs in the competition...I have to be honest and state that I was not impressed. In fact I was a bit disappointed in their lack of showmanship
DJ Sinister who is down with the NY based X-Men Crew did a good job, but the rest wound up being quite boring.... And I mean boring. DJ Swamp and runner up DJ Sinister entertained the crowd by playing to them. They made facial expressions. They did exaggerated body movement which made their routines look so much more colorful.
The other djs just seemed to concentrate so hard on executing their routines, that they forgot there were a couple of hundred people watching. When this happens, dj routines get boring unless you're another dj. I wish more of these contestants would've played to the crowd. DJ Sinister and Swamp also captured everyone's attention by picking popular records that haven't been used in previous dj competitions It seems like everyone breaks out with two dusty copies of Run DMC's 'Peter Piper' or LL Cool J's 'Rock the Bells'. That gets boring... Swamp used NWA records..and I think if memory serves me correctly, Sinister rocked some familiar KRS-One joints. We need more of this simple yet effective implementation to enhance what is rapidly becoming a played out aspect of hip hop culture..skillfull and creative djaying.

written by Davey D 3/4/96