Latifah says Oscar nomination is a win for hip-hop
by Bob Tourtellotte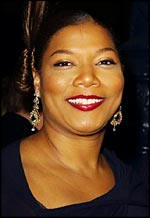 LOS ANGELES (Reuters)March 6 - It is a Hollywood cliche, but for "Chicago" star Queen Latifah, the saying rings true: just being nominated for an Oscar made her a winner.
Not just her, but, in her opinion, the nomination in the best supporting actress category was good for the whole of hip-hop music and all entertainers who cross over from one arena to another.
"I felt like doors opened for the future. That maybe the rappers-turned-actors who really have talent and put work into the craft ... can make a serious career of it because it's been done. The precedent has been set," Latifah told Reuters.
Her next film, comedy "Bringing Down the House," in which she co-stars with wild-and-crazy guy Steve Martin (news), debuts Friday.
The Academy Awards (news - web sites) March 23 are the final stop on what has been a long trip for the singer-turned-actress who portrays the wheeling, dealing prison matron Mama Morton in the smash hit movie musical "Chicago."
Latifah is not the favorite to win the supporting actress honor, and she knows it. Oscar watchers give the nod to any of the four other nominees, "Chicago" co-star Catherine Zeta-Jones (news), Kathy Bates (news) in "About Schmidt," Meryl Streep (news) for "Adaptation" or Julianne Moore (news) in "The Hours."
"This thing could go any way, and I'm one of the rookies," she said.
The actress, whose real name is Dana Owens, said that on Oscar nomination morning, she arrived home from a brief concert tour and was fast asleep when she got the call telling her of her nomination. She had to stop and think, "What nomination?"
"I just screamed. I was running around the house with nothing but my undies on ... saying, 'Do you know what this means for hip-hop,"' she said.
HIP HOP HELP
That is Latifah, who is quick to think of others. She says that her "team," which includes manager and business partner Sha-kim Compere, deserve as much credit for her success as she. "I've had a lot of help and support to be able to go out and do what I do," Latifah said.
When diamond merchant DeBeers asked her to wear a diamond necklace to the Golden Globe awards (news - web sites), she agreed, but only if DeBeers made a substantial charitable contribution.
That style is the opposite of her role as Matron Mama Morton, who trades favors for cash in "Chicago."
But in "Bringing Down the House," fans get to see more of Latifah the way Latifah really is: hamming it up, helping people out and being smart about it.
She plays Charlene Morton, a wrongly imprisoned woman who strikes up an online friendship with divorced tax attorney Peter Sanderson, who is portrayed by Steve Martin.
When Charlene gets out of prison, she looks up Sanderson to help her appeal her conviction. When he balks at the idea, she invades his house, his life and his family's business knowing that a street-wise home girl like herself could embarrass a straight-laced white guy like Sanderson into submission.
Charlene's plan eventually works, and Sanderson learns how to live more joyfully and give his family more attention.
Of course, it all comes with a lot of jokes.
KEEPING IT REAL
Latifah earned an executive producer credit by helping the film's makers make the movie more authentic in its language and portrayal of the culture clash between black and white America.
Latifah is no slouch in the brain department. Early in her hip-hop days, she started her own label with Compere to promote and manage artists. She has not only appeared in movies and on television but for awhile had her own talk show.
One slip-up was a November arrest on drunk driving charges. Latifah pleaded no contest to a lesser charge of reckless driving and was put on probation for three years, ordered to pay a $300 fine and attend an alcohol education program. In a statement, Latifah said she "took full responsibility" for her actions.
With all the Oscar talk, fans might think that she would be taking on more roles now, but Latifah's thinking is just the opposite. She knows that over-exposure can be bad for celebrity, so Latifah is slowing down.
"It may sound weird, but I take a step back. The table is full of scripts and story pitches and ideas and jobs. So, now I have to be more selective," she said
"That is, to me, where people probably go wrong because now they get caught up in the hype. I'm blessed and I'm thankful, but I'm humble," she said. "(I) keep opening doors for other people. I can produce; I don't necessarily have to star." Reuters/Variety