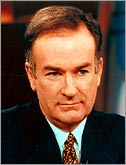 Well it looks like the myth of Bill O'reilly has been broken. For the third time in 3 weeks O'reilly has slipped up, runaway and got his ass handed to him... We saw this happen a couple of weeks ago when Not In Our Name activist Jeremy Glick came on to discuss the anti-war protest. O'reilly lost his cool, got flustered, cut the interview short and threatened to physically assault Glick when the camera's were off.[ See last week's article about this incident]
For those who don't know Glick, he's a professor at Rutger's University. He lost a family member during the 9-11 attacks and is currently part of the Hip Hop oriented 'Speak Truth to Power Tour' which includes Hip Hop activist like Boots Riley, Rosa Clemente, Fred Hampton Jr, dead prez, Jehvon Buckner of Conscioushiphop.com and many others. [Look for a separate article on that tour.]
Next we saw O'reilly the moral crusader remain quiet when Pepsi hired the profanity laced Osbournes to pitch their soft drink. He tried to weigh in at the last minute when Pepsi cut a deal with Russell Simmons to give money to Ludacris's foundation or face a boycott. For those who don't know O'reilly got his listeners to bombard Pepsi with phone calls and emails to Not Hire Ludacris because he had profane lyrics.
When O'reilly finally did open his mouth on the issue he made the laughable comparison between Ludacris and Ozzy Osbourne by likening Luda to serial killer Ted Bundy while Ozzy was compared to being more like Winona Ryder... We need not explain how dumb that statement was.

His latest dust up was last night with Dave Mays who is CEO of the Source Magazine. O'reilly tried to act like he it would be a fair exchange because both him and Dave graduated from Harvard. O'reilly was reacting to an article in last month's issue which was titled '5 Reasons Why O'Reilly Can Not Come to the Hood'. As soon as the the conversation started O'reilly went to his usual tactics.
First O'reilly tried to pass off anecdoctical evidence as statistical facts. He started referring back to the conversation he had with two LA school teachers who claimed that rap music was ruining their kids. Mays quickly countered by pointing out that there are a lot of other factors that come into play when it comes to determining what does or does not effect behavior. He also pointed out that there are a number of other teachers who would have a different take on things.
May's pointed out that O'Reilly was a racist who played to the racial fears and hang ups of 'middle America' by reducing rap music and rap artist to a a few lines of lyrics in a song. He noted that Bill was deliberately overlooking the complexity of the art form and its participants.
O'Reilly did his usual smirk and grin routine and tried to wave Dave off, but Mays continued on by pointing out the obvious-O'reilly was part of a powerful media outlet that continuously rehashes stereotypes. He accused O'reilly of using racist tactics to inspire fear in his viewers.

O'reilly told Mays that he was getting rich from selling 'mind poison' to the impovershed Black community. He accused Mays of undermining the types of values and skill sets that they would need to succeed in life. He attempted to booster his argument by saying that rap stars Heavy D and Will Smith agree with him and that Dave Mays himself should also be on his side. Mays countered by noting that Heavy D should be on the show to be a part of the conversation and that in the end Heavy has respect for the culture. In other words he wasn't going to be supporting O'Reilly's spin on things... He also noted that what he was selling was a culture that empowers people and lets them know that they can be entrepreneurs

He also told O'reilly that he doesn't know everything and he shouldn't be running around trying to impose his 'paternalistic' views on everyone. Mays also accused O'reilly of not spending one day in the hood.

O'reilly got heated and bristled, stammered and blurted out that he spent 28 years reporting from the hood.. Mays asked him when was the last time he visited the hood.. O'reilly didn't answer.. I guess the hood thing is a sensitive issue for him.

Dave Mays gets high marks for mashing on O'reilly. It was clear that not only is O'reilly not informed, but in any sort of encounter with someone who knows his facts, he can not hang. Not in the least bit. So why does O'reilly crusade against Hip Hop? Perhaps the answer lies within a story that was reported by the good folks at Allhiphop.com yesterday.. .

Peep this news alert they released about the return of Mister Ed the Talking Horse who made us laugh in the late 60s and 70s.

"Talking horse Mister Ed will make a T.V. comeback after 36 years. In the updated version, the horse will lose his hillbilly accent for hip-hop slang. Producers at Fox cited hip-hop's popularity for the change in language. The new version is based on the same theme as the original. Saturday Night Live writer Jack Handey wrote the pilot & is executive producing with Marty Adelstein, Neal Moritz & Dawn Parouse."

What I found telling about this was the fact that Fox found it necessary to use 'Hip Hop' slang because of Hip Hop's popularity. Facets of Hip Hop culture have always been an important ingredient in Fox's success. For example, the upstart network relied heavily on the Hip Hop inspired humor of shows like 'In Living Color' and 'Living Single' or the Hip Hop backdrop and sensibilities of the crime drama NY Undercover. Folks may recall that pioneering rap artist-turned record executive Andre Harrel was the producer for that show. All these shows helped launched Fox and put it on the map then they were all unceromoniously dumped after Fox felt like it arrived. But time and time again when the network needs an injection and a boost in the ratings they'll drag out Hip Hop. That important ingredient has been cleverly used in Bill O'reilly's Factor Show.

By using it as a whipping post to stir up fears and controversy based on stereotypes, he's been able to effectively get his name out there with very little repurcussions. It's the perfect fit for a guy like him. He can maintain his distance from something he knows very little about and probably detests while at the same time remaining relevant and recognizable to the highly valued 18-34 demographic of people often embrace Hip Hop. Who doesn't know O'reilly these days? A lot of folks know him because he's done what always works in media.. He's caused controversy..

So with that being said.. I suggest we put it to rest.. He got his 15 minutes of fame.. Jeremy Glick, Ozzy and now Dave Mays pulled his hole card.. He's the dog with no bite.. Good riddance.. Now lets move on..