Jay-Z Set to Join Sneeker War
As He Launches His Own Line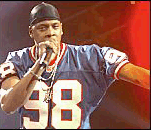 The oddest couple in image-making were sharing a display table at Da Silvano the other night. Adman Peter Arnell and former Interscope Records black-music chief Steve Stoute (the man beaned by Sean [Puff Diva] Combs with a bottle of bubbly) met when Arnell was hawking Ray-Bans, and the glasses were featured in the film "Men in Black." Stoute produced the movie's soundtrack. The pair of heavyweights (literally — both are hefty fellows) kept working together, then formed a company called PASS to formalize their collaboration. Now, Reebok, the sneaker-maker, is poised to profit big from their pairing.
Arnell and Stoute have been working with Reebok for more than a year, and are poised to make a splash. They've made rapper Jay-Z the first person outside sports to put his name on an athletic shoe — the S. Carter (Jay-Z's real name is Shawn Carter). They will be launched April 18 in a one-day laydown — just like a new CD. A limited-edition Jay-Z CD single will be a gift to the first buyers.
Expect the usual hip-hop hoopla — including violent, purple prose, because Stoute and Arnell are on a mission: "Our job is to destroy Nike," Arnell says of Reebok's competitor, "to kill both its market share and its credibility."
Reebok's given them a running start. It was recently reported that in the year ending September 2002, Reebok's shoe sales were up 10.4% against a 2.2% decline for the wounded but still market-leading Nike.
"Nelly is writing songs about our Air Force Ones, not Reebok," counters Nike's PR director. "If Reebok wants to imitate us, God bless 'em."

This story appears in the Feb 16 of NY Daily News http://www.nydailynews.com/11-08-2002/news/col/m_gross/story/60108p-56206c.html