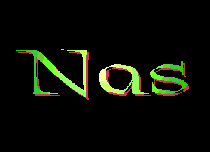 The first 5 people to correctly answer this riddle will win the brand new Nas CD 'If I Ruled The World'....
There is something about Nas that seperates him from the rest of the rap pack...He has something that KRS-One has never had and never will.. He stands apart from Chuck D because of this uniqueness... And although both he and his boys Mobb Deep hail from Queensbridge, Nas still has something about him they can only wish for...
West Coast Rappers like Ice Cube, Too Short, Snoop Dogg, and Coolio have never had what Nas has....Nor has Ice T, E-40 or pioneers like Melle-Mel...
But if you really stop and think about Nas is in good company..'cause what he has Rakim has..and so does Hammer and so does Vanilla Ice and let's not forget De La Soul and The Pharcyde...They're all rolling like Nas.... They all have something special about them. ...
And has much as I like the Fugees they can't hang with Nas on this tip..Nor can Cypress Hill or for that matter Eric Sermon.... But who cares...Nas will forever rule because he has what Marley Marl, Big Daddy Kane, and his partner AZ have....
For the Nas CD tell me what he has?
Email answer for the Nas contest...