The big song by far in these here parts is the infectious ode to the Golden State...which isn't due out in stores for another 6 weeks. California Love by Dr Dre & 2Pac. Dr Dre came with it when he dug into the crates and brought out and old piano ladden break beat that was first popularized by Ultra Magnetic on one of their earliest releases. Later on Shinehead got into the act and used the beat as well. There may have been a few other folks who snatched it here and there, but none as visible as Dre. With the help of funkster Roger Troutman on the vocoder, 2Pac rips a fresh verse about how he's out of jail and on bail and has nothing but love for the West Coast. Although the song has no harsh words or disses for anyone,many are wondering if this will intensify the already strained relations between East and West coast artist...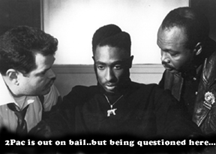 Speaking of East vs West, Ice Cube, Mack 10 and WChave launched another missle toward the East with a joint called West Coast Slaughterhouse. Now me personally, I don't really care for the song. It's way to slow and not very energetic. However, there may be more then a few fans out here who take a liking to it..if for any reason just because it takes a shot at a place that for so long refused to give any sort of respect to the fans and artist that live out here. In addition it may be a response to the song put out by Master Ace two years ago called Slaughterhouse where he dissed gangsta artist from the West Coast. Also adding fuel to the fire is Seattle based Sir Mix-A Lot. Last night on KMEL's Westside Radio Show in which he hosted, he dropped his new release appropriately titled West Side.
A couple of dope cuts to peep out include Saafire's group Hobo Junction. These guys have established a nice little rep for themselves by peddling homemade tapes of their material in front of local record stores. Many of these tapes are collectors items as they were sold on a limited basis. The finally hooked up with my man O who is longtime fixture in the LA rap scene. He pressed up some of the Hobo's material on his own South Paw Records and the those kids have been making noise in a bigger way ever since. The cut that folks are currently fiending for is Shot Calling Big Ballin', which has a bassline that will remind you of the old disco classic Bounce Rock Skate by Vaughn Mason . The lyrical content talks about .. what else?... Hustling and takin' it to the next level.
Finally be sure to peep out a new joint from former Last Poet member Abiodun Oyewole. His bass laden hip hop remake of the classic When The Revolution Comes is definitely all dat. It's due out in February.

Peace for now.. Davey D
For FNV Chart of January 12-18.. PRESS HERE