While the start of a new year often leaves people anxiously waiting to kick off new beginnings..the Bay Area&quots hip hop community was left deeply saddened. 22 year old Kyle Church aka MR. C of SF&quots RBL Posse was mercilessly gunned down in a sea of bullets in what looks like a simple case of being in the wrong place at the wrong time.

According to witnesses Church was hanging out New Year&quots morning with a number of friends in his native Hunters Point area. A lone gunmen who earlier that day who had some beef with with one of the people in the company of Church, came back and sprayed the area and crowd where Church was standing. The end result was Mr. C being hit 8 times, a ruptured kidney and a collapsed lung. He died yesterday while in surgery.

The lose of MR. C is especially troubling to Bay Area fans as they were one of the more popular acts in the area. They first made noise two years ago with an underground hit called &quotDon&quott Give Me No Bammer Weed&quot.. They hit it big last summer with a hyped song called &quotBounce To This". The record was played in heavy rotation on many of the Bay Area&quots Top 40 and Urban Stations. For those who knew MR. C, he was seen as a good guy who didn&quott go out of his way to make enemies. The success of RBL Posse had many San Franciscan&quots feeling proud as RBL help lay some crucial groundwork for the region&quots burgeoning rap scene.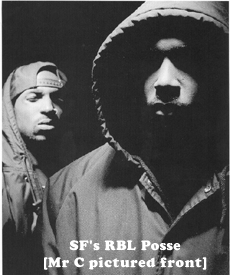 Ironically Mr. C&quots death is a continuation of some misfortunes that have long plagued Bay Area artist over the past few years. The first untimely death came when The Mac, a popular artist from Vallejo was gunned down in a case of mistaken identity. About a year later Maxacious a lead rapper for SF&quots Ill Mannered Posse was gunned down in a hail of bullets. Two years later, popular East Oakland rapper Plan B was shot in his native Sobrante Park section. Again it was a case of mistaken identity. The following year [1994] San Jose based rapper Karisma was killed while visiting friends in East Palo Alto. Earlier this