UNION CITY POLICE DEPARTMENT
TURN OUT MONEY B'S PICNIC
Ya know sometimes it seems like the more you try to do something positive the more some crab in the barrel rises up and tries to 'PH'..[playa hate]... If you don't believe me talk to Digital Underground's Money B or his protege Vickia, a dope singer, who as of late has been making quite a bit of noise around town with her new song 'Like To Freak Ya'. For those who aren't up on the song, it's a searing female version of DU's sultry, classic jam 'Freaks Of The Industry'. Anyway, ask these two or anyone connected with Money B's new record label Bobby Beat's Record what their definition of a 'playa hata' is and they just may say Union City's Police Department.
The turn of events went as follows: because Vickia has been 'blowing up the spot' with her new song, a barbecue and picnic were scheduled to be held at Union City's Seven Hills Park [for you out of towners, UC is a little city which lies between Oakland and San Jose in the East Bay]. The picnic was 'invite only' and was basically for the Bay Area's music industry people.. ie local club and radio djs, the press and record store retailers. It was Vickia and Money B's way of both familiarizing folks with Vickia and to say thank you for all the support. The invitations were mailed or faxed out and many had planned to spend this scorching hot Sunday [7/14] networking and chilling with Money B, Vickia and their folks.
Unfortunately, what awaited folks arriving at Seven Hills Park, were 10 Union City police officers who informed them that the picnic had been cancelled because the wrong permits were filed. On the surface one could understand that logic but, what didn't make sense was the police closing down the entire park for the day and a large number of officers guarding the park entrance. This seemed strange especially since by their own admittance there was no trouble, nor did they expect anything to break out..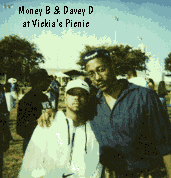 Later that afternoon at Centennial Park in the neighboring city of Hayward where the picnic was rerouted, a frustrated Vickia and Money B explained that UCPD had unfairly cancelled the party the day before thus making it literally impossible for them to contact all the people they had invited or make sufficient alternative plans. What was at hand was an expressed concern from UC police officials heard rumors that this event would be a concert and not a picnic...and that over 5 thousand people were planning to attend...UCPD noted that neither their department nor Union City itself was equipped to handle such a large gathering... When it was explained that their assessment was way off base.. to the point of being ridiculous and that this gathering was nothing more then a picnic and that lot of time, energy and expense was put into planning this event, UCPD turned a deaf ear..and started trippin'.
That afternoon perhaps 60 people at most attended the rerouted picnic at Hayward's Centennial Park. There was a dj set up, lots of food and a diverse crowd of Vickia and Money B's close friends and family having a good time...Also on hand were acts like Original Aztec, The Kumpany, Hispanic, DJ Fear of No Concept and singer Big Jeff of the rock-n-roll group Wanted. Sadly many of the key industry types that they had hoped to attract never made it to Centennial Park. Apparently, the original site in Union City was along the route to the large MTV concert that was happening further South on highway 880 at San Jose's Raging Waters. When folks found themselves unceremoniously being turned away from Seven Hills Park, many opted to head South. Perhaps UCPD got Money B and Vickia's event confused with the MTV show..who knows?
Whatever the case, one thing is certain, this is not the first time UCPD has made moves to shut down a hip hop oriented event. The word around town, is...if it's hip hop or Black, UCPD ain't havin' at... Officials at Bobby Beats Record promised that they would not take this lying down. All options are being explored. Money B, Vickia and the staff at Bobby Beats are not kids just getting their feet wet in the music biz. They've been doing this for a while with an exemplary reputation of being hard working and professional. The last minute cancellation was an unprovoked, unfair and unwarranted action from UCPD and folks expect to be compensated. I would not be surprised if the next chapter in this story is a lawsuit against Union City.
written by Davey D
July 14 1996