KMEL Jams Wear...a clothing line put together with a vision of NO COLORLINES. Cool clothes are like cool people... they define individuality. They have passion and expression and they are a reflection of the multicultural VIBE that is the Bay Area. Wear your KMEL JAMS WEAR with pride. You are now one of the New Crusaders in the dream for a world with NO COLORLINES and UNITY THRU MUSIC.
You are part of The People's Station. 106 KMEL!

LL Cool J sporting a black
KMELJAMS Wear T-Shirt..

Duke & Shag
from Cypress Hill
model the KMEL Jams Wear
T-shirt in white.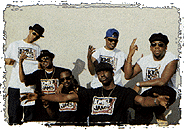 New Edition models the KMEL Jams Wear T-shirt.
100% pre-shrunk cotton.
Available in black or white. Comes in L. XL or XXL.
Go To Next KMELJAMS Wear Page
Go To Get Addition KMEL JAMS Wear Info..