HIP HOP DAILY NEWS
Go Back To Hip Hop News Directory
Send A Letter To The editor..or submit a news scoop
Professor Griff Returns
June 13 1997
Public Enemy fans will be happy to know that the group which has been on a 3 year hiatus is about to return with a vengeance... The group is due to release a reunion album sometime before the end of the year... All the original members will back in the fold.. That includes the former Minister of Information, the controversial Professor Griff.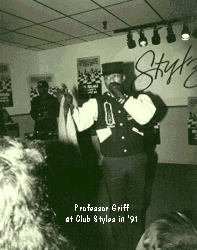 Griff made a lot of noise a few years back when the group was at it's height.. He was accused of making some very disparaging and irresponsible remarks about Jewish people... The resulting outside pressure led to the group not being able to support Griff assertions which led to him leaving the group admist a sea of controversy..
For a while Griff floundered and tried to come back as a solo artist who was signed to Luther Campbell's label.. His first lp Pawns In The Game made a little bit of noise.. But critics said that had more to due with Griff's controversial reputation and not his rap skillz..Nevertheless, Griff seemed committed to make it as a solo artist.. Unfortunately it never quite happened..Once the 'gangsta rap' age came into prominence... artists like Professor Griff found themselves as being oddities within the hip hop arena..
Nowadays Professor Griff is set to return.. He has a new spirit and renewed vigor... He has a solo project in the works called 'Blood Of A Prophet'...It is due out this summer... The first single is called 'Ole Bitch U Worryz'.. It features Chuck D and it talks about the East/West Coast conflict within hip hop.. Also on the project are some heartfelt spoken word songs which has always been Professor Griff's strong point..
Davey D