How The East Coast Started This Bi-Coastal War

This past week, I've heard three songs that are guaranteed to intensify the current east /west coast 'war'. The first comes from Ice Cube, Mack 10 and WC. Collectively known as the Westside Connection, this trio has lived up to their pledge to bring this drama with their new song entitled 'Bow Down'. A smoldering, ominous beat, inflammatory lyrics, an engaging hook and a dope video which just premiered on BET will undoubtly have folks from Cali proudly throwing up the 'W' and have folks from back east steamed.

Some will ask what's up with Cube and company constantly dissing the east coast? In a recent conversation with WC, he explained that really its not a dis to the entire east..their main bone of contention is with New York. Secondly, it's not with the entire city but rather with the New York critic who happens to be a writer, dj or even another artists that has been forever disrespecting and minimizing the accomplishments and success of west coast artists. As WC it was about time someone grew some balls and said 'enough is enough and stood up for Cali'. The entire upcoming Westside Connection album is definitely gonna set off at the very least a war on vinyl that'll make the legendary '86-'87 BDP..Juice Crew NYC bridge and borough wars pale in comparison.

King Sun has stepped into the arena with a hard hittin' response song called New York Live which is directed at 2Pac. Here Sun berates Pac and accuses him of being phony and a slave to Death Row's ceo Suge Knight. While Sun's record puts forth some choice words he flips the script by also being critical of artists from his native New York who he thinks have gotten lazy and non creative. He also gives props to his 'peep' out west..but because of 2Pac's huge fan base, there will undoubtly be a perception that Sun's song is a west coast dis record.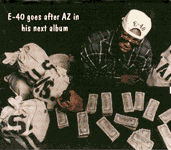 Finally we have the Bay Area's E-40 who is about to release his best album yet. He's definitely gonna go triple platinum. Entitled 'Hall Of Game', the lp starts off with a hard hitting song called 'Record Haters' which takes some pretty hard pot shots at some of his east coast brethren.. inparticular basketball star Rasheed Wallace and rap star AZ. I spoke to '40 Watter' about this cut and he explained that normally that's not him to come off like that..but Wallace while being interviewed on BET's Rap City dissed him. Rap star, AZ in a separate interview also dissed E-40 when he publicly questioned the legitimacy of E-40's platinum success. He went on to note that 40 didn't deserve to go platinum... Why these brothers went there...I don't know.. It's not like they know him. To me, it was yet another example of an arrogant east coast bias and attitude held by more then a few which has been the real crux behind hip hop's current civil war.