RIOT AT DOGG POUND CONCERT IN OAKLAND
TWO DEAD!!!
Last night at the 'Eastmont Pavilion', which is actually the former Meryvns of Eastmont Mall, which is located in the heart of East Oakland, it went down. Oakland's very own Delinquents performed and E-40, Mac Mall, Spice 1, DJ Fuze of Digital Underground, D-Shot and Dru Down all hosted the event. Tha Dogg Pound eventually performed but not before a whole lot of drama broke out.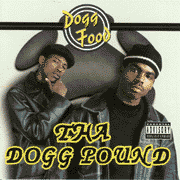 The start of the 'festivities' involved the Oakland Police Department better known as 'Po Po'. According to concert goers they tried to whoride...which means they basically started to disrespect the crowd. Folks were lined up all nice and orderly when all of a sudden OPD decided that the crowd was to close to the concert's doors. Don't ask me why they waited until the line was halfway down the street before they decided this. All of a sudden they started pushing fools back and then all hell broke lose. A small riot broke out. An onslaught of bottles came from female side of the line hitting one cop in the head. This required him to be broughtout on a stretcher. While they were opening the ambulance doors, the cop who was strapped down was an open target to even more bottle throwing. This resulted in the cops macing the huge crowd of about 3500 people outside the mall and the front windows to the pavilion being shattered. This also resulted in the police shutting down the concert so no one else could get in. The cops were acting so stupid that they didn't even let 3X Krazy another Oakland based act that was scheduled to perform into the building. They knew these brothers were legitimate 'cause they had dats and were obviously ready to perform. That was the first thing that went down.
The second half of the drama was the Tha Dogg Pound showing up at 12:30 for a concert that was supposed to be over at 11PM.. Their tardiness almost caused host
E-40 to be hit with a thrown chair from a disgruntled patron. Once Tha Dogg Pound arrived the Eastmont Pavilion's executive director tried to reneged on a set performance fee. This led to another one hour wait while E-40 and his brother D-Shot tried to help moderate the negotiations. After an hour Tha Dogg Pound finally performed and rocked the house..but there were only 100 people left to see the show.
Meanwhile outside the concert all sorts of funk was breaking out. And just like always..the side show which is an Oakland tradition broke out. Fools started doing donuts, figure eights, lock ups and fishtails with their cars in front of an eager crowd of late night spectators. This according to police caused a huge traffic jam which literally shut down a fire station near the mall.There were so many cars it was literally impossible for a truck in the event of an emergency to advance.
The police prescence increased from 25 to over 50 officers. The police complained of guns being fired and fights breaking out but because of the huge crowds they were helpless to put an immediate end to the drama.
All sorts of drama was taken place along the side streets of the mall. People were getting jumped and one lady was stripped of her clothes by a mobb as she walked toward her car.
The ultimate tragedy took place when a car racing at speeds of close to 100 mph lost control and smashed into a fence.. So powerful was the crash that one of it's wheels flew off and broke down a wall in a nearby church across the street from the crash. The driver and a passenger died instantly.. A third passenger survived and is in the hospital in critical condition.
Who was at fault? It's hard to say...most concert goers are steadfastly blaming the aggressive behavior of the Oakland police.The concert promoters are charging the police of negligence because they paid OPD over 10 thousand dollars and they did not deliver. They also pointed out the car crash took place a few miles away from the mall and was not connected to the rowdiness at Eastmont Mall
Residence who live around Eastmont Mall are blaming city officials for granting a permit to the promoters who knew Tha Dogg Pound would attract such an unruly crowd, especially when it was being held in the hood.
The police are saying it was rowdy individuals who were completely out of control. Well whatever the case, one thing can be assured, Hip Hop took a hard hit after last night's concert. The big losers are the hordes of Bay Area artist who now find yet another venue and a few more ill placed reasons as to why they can not perform in their home town.
written by
JR 'Knight Rider'Valrey and Davey D
4/20/96
Back To Hip Hop News Directory
Back to Davey D's Main Home Page