CYPRESS HILL REVISITS
WESTSIDE RADIO !!
April 4th 1996...Cypress Hill made a return trip to KMEL's groundbreaking Westside Radio Show. For those who don't know Westside Radio airs every Friday Night on the Bay Area's number 1 music station 106 KMEL. The show's main theme is to highlight West Coast talent. In many ways it was a response to the segregated playlist of radio stations on the East Coast that categorically refuse to play non NY rap artist. The brainchild of Street Music Director Alex Mejia, the show was conceived with the collorabative efforts and support of Ice Cube. The way the show works is that the visiting West Coast artist host the show. They take the phone calls, play the music and basically play dj for two hours.
Since its debut earlier this year, everyone from West Coast pioneers, LA Dream Team to Ice T to Sir Mix A Lot to Kid Frost to MC Ren and Yella have graced the show with a visit.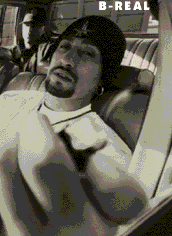 Among the Westside Radio visitors, was Cypress Hill, which is ironic considering the beef they have with Ice Cube. Well anyway, Cypress Hill rolled through and blew up the spot. They had so much fun and did such a good job, they asked if they could return and do another show. The only thing was on this visit they wanted to feature Westside Radio in their new video. Hence a special edition of Westside Radio aired this past Wednesday. It was definitely a show among shows. B-Real was on point in a major way.[Remember Sen Dog is no longer in the group He is currently pursuing other musical arenas including heavy metal]. The highlight was when they featured their new single Boom Biddy Bye Bye which was remixed and features guess who? The Fugees. That's right folks the Fugees are on this joint and you know what? The song is all dat and should serve to put Cypress Hill squarely back in the hip hop arena.
So be sure to check for Cypress's next video.. and if you're ever in the Bay Area be sure to check out Westside Radio on Friday Nights.

written by Davey D 4/5/96
Back To Hip Hop News Directory
Back to Davey D's Main Home Page