Cella Dwellas
Realms N Reality
[Loud]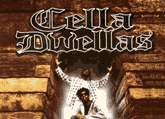 This album is just ok...It's brought to you by some Brooklyn natives who go by the name of the Cella Dwellas.... It has a strong East Coast feel...but I have to be honest only a couple of tracks really stood out... When this group first hit the scene with the song Good Dwellas, it looked like they were gonna blow up...But withe release of their album and their new single Advance To Boardwalk... I just don't hear it... Don't get wrong, I'm not saying these guys are wack..but to me they sound no different then groups like Smif & Wessun, Black Moon and others.. Solid NY Style hip hop... They flow good.. the music is underground...gritty and a bit raw..But again nothing stands out...
For those who are into this style of hip hop you may want to check out the following cuts... Advance To Boardwalk which is a hip hop interpretation of the game monopoly..Perfect Match is a hip hop love song as it samples from Kool and The Gang's Winter Sadness. Recognize & Realize..is a NY style track that talks about how hard it was growing up and why folks need to recognize...A head bobbi' song that I think may appeal to the headz is Line 4 Line..with it's nice piano riffs
Overall this album..is an NY Style rap lp... GRADE=C+
Davey D
6/3/96
What do you think of the Cella Dwella lp?