The Pacific Film Archives, in Berkeley, has just wrapped up its 'Blaxploitation is Back Festival', in which featured classic Black films like The Mack, Superfly, Thomasine and Bushrod, and Friday Foster featuring the 'Queen of Blaxploitation' Pam Grier. For a youngster like myself the festival offered me the opportunity to see some of the first films that portrayed African American as the protagonist and the chance to see the type of movies that my parents enjoyed in their heydays. Films like The Mack and Superfly put me in a state of amazement because I never really noticed how Hip Hop culture derived from the Seventies culture, and I never could of guessed that actors like Pam Grier, Ron O'Neil, Richard Pryor, Max Julien, and Antonio 'Huggy Bear' Fargas got received their film debut in some of these low budget, powerfully entertaining movies. These movies set the stage for movies like Harlem Nights, Posse, the Beverly Hills Cop series, and Pulp Fiction.

California rappers, especially, were greatly influenced by these early Black movies. I heard the original lines from The Mack that Oakland rapper, Too Short sampled on so many of his songs. I also saw in the Mack where Oakland rap star Dru Down got the idea for his blockbuster hit song 'Pimp of the Year', and how from Superfly he got his image of the long Perm, top hats and long coats.. Snoop also developed some of his ideas for his video 'Doggy Dog World', and sampled some of the interludes, on his album, directly from The Mack and Superfly. As a member of the Hip Hop era, I never thought about were these styles came from, the dying down fad of Afros with picks, the bald women look, bell bottoms, and pale pink lip sticks. Watching these movies it dawned on me that Hip Hop is just a branch off of the seventies Blaxploitation genre and almost everything that people label 'Hip Hop culture' was blue printed in the seventies.

A great mass of Black acting legends started at the bottom working on Blaxploitation films. Richard Pryor, one of the most Black famous comedians ever, started in this film making underworld. Pryor, after being accepted into mainstream Hollywood, went on to be a comical icon. Some of the today's comedians, Black and White, have said that he has greatly influenced them, people like Martin Lawrence, Robin Williams, and Eddie Murphy who has even formed jokes around his admiration for Pryor. Pam Grier is also an actor from this era that has made a huge impact on today's Black entertainment. Her roles in movies like Coffy, Friday Foster, and Foxy Brown set the stage for actor like Jada Pinkett, Halle Barry, and Salli Richardson. She seemed to create the Black sexy female heroine image employs the Black women of today in movies like Posse and Menace To Society, where Jada Pinkett fights to keep her son on the straight and narrow that many of the characters, in the movies, follied in doing. Max Julien and Ron O'Neil, I believe had one of the biggest impacts on Hip Hop culture and even more directly upon 'Reality Rap'. A great mass of artist sampled lines from his movie The Mack.. The Mack along with Superfly set the guidelines for being a 'baller' in the Black community. People like Too Short and Dru Down took the image to another level. A few years ago Too Short threw a Players Ball, in Oakland, where the males had to dress like pimps and the females had to be scantily dressed like hoes to be able to come through the door. Dru Down made the shades and the long coats part of his everyday image. He even is in the process of resurrecting the Perm. Antonio 'Huggy Bear' Fargas is another one of the pimp icons, standing right next to Max Julien and Ron O'Neil.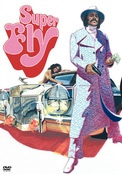 Recently on 'Martin' he was one of the final contestants in Martin's Player contest receiving second place only to the famed character, that Martin plays, Jerome.
Blaxploitation films laid the pavement, to mainstream Hollywood, so the Black movie trucks of today could roll in and establish themselves. Posse, written by Mario Van Peebles, son of Blaxploitation entrepreneur Melvin Van Peebles was almost certainly influenced by the famous Blaxploitation western Thomasine And Bushrod. Both movies have a similar plots. In Posse, the protagonist Jesse, played by Mario Van Peebles is on the run from a young deputy, who wants him and his gang dead for escaping a war alive, while in search of revenge against another, whom killed his father. In Thomasine and Bushrod the two characters who's name appears in the title are on the run from a deputy, who wants the duo dead. This movie also led the way for Eddie Murphey's Harlem Nights. Blaxploitation hits like Cotton Comes to Harlem, Trouble Man, Cleopatra Jones, and Shaft. paved the way for today's cop movies like Beverly Hills Cop, and Lethal Weapon. Blaxploitaion police films ended the era of Hollywood films were Black people only played the antagonist roles like being the bank robbers, rapists, murders, and thieves. The Blaxploitation wave of crime crusaders were suave and extremely cool in the way they handled their profession of handling criminals.
Blaxploitation contributed a lot to Black Entertainment by leading the way for today's actors and actresses in today's entertainment business. Although Blaxploitation was condemned in its time it triumphed in the end. Flocks of people attended the film festival and like I, they seemed to be enthused every single night of the festival. I believe that Blaxploitation showed that it was time for something different. It brought along a change to the entertainment business. It changed the way people perceived the Black experience in America. And most of all it changed the public perception of Black people!
JR Valery is a writer for YO!.. Youth Outlook Newspaper.. reach him at 510-929-2183.. or email him.
---
Click here to send comments to Davey D or JR Valery
---